Tmate TikTok Downloader
Download Video TikTok without watermark - Free - All Devices
---
Play a TikTok video you want to Download from Tmate Downloader by using TikTok.
Copy the TikTok video URL by clicking Share button and click Copy Link
Paste the TikTok video URL in the box above and hit the Download button to download and save TikTok video
Download TikTok videos with Tmate the TikTok Video Downloader
TikTok Downloader is a tool to support downloading videos no watermark from TikTok. It is not TikTok software, just helps to download videos from TikTok, and usually completely free. TikTok Downloader is the safest way to save with or without watermark video and requires absolutely no login or user information.
Tmate.cc is the TikTok downloader to help you download the highest quality TikTok Video to mp4. You just need to paste the TikTok's direct link into the text field on our site, and click download TikTok video.
TikTok is currently one of the largest social networks in the world and a lot of videos have been circulating on TikTok. Downloading TikTok videos without watermark is quite difficult and complicated, so with just a few simple steps, TikTok video downloader - Tmate is made for you to easily TikTok video no watermark download.
How to use Tmate to download TikTok Video (TikTok to mp4)
Open TikTok.com and search for the video you want to download.
Now, Copy the direct link of the video you want to download.
(See more: How to get the TikTok video link)
Go to Tmate.cc (TikTok video downloader) and paste the video link in the field box
Click Download and choose the video with or without watermark that you want to download
How to get video link URL of a TikTok video to Download video from TikTok?
On PC:
Go to the TikTok video you want to get the URL for. Click the Share button of the Video, then click "Copy link"
On Phone (Android & iOS):
Go to the TikTok video you want to get the URL for. Tap on the Share button at the right side of the video, then select "Copy link"
Download TikTok Videos With Tmate.cc PWA App
PWA (Progressive Web Apps) is an application that can provide additional features based on supported devices, provides offline capabilities, push notifications, and has the same interface and speed. Tmate develops PWA application to bring great utilities and experience to users on Chrome such as:
Convenient and will help you download TikTok videos faster
Much better speed and performance than website
Good security
Add to Home Screen
It feels like an app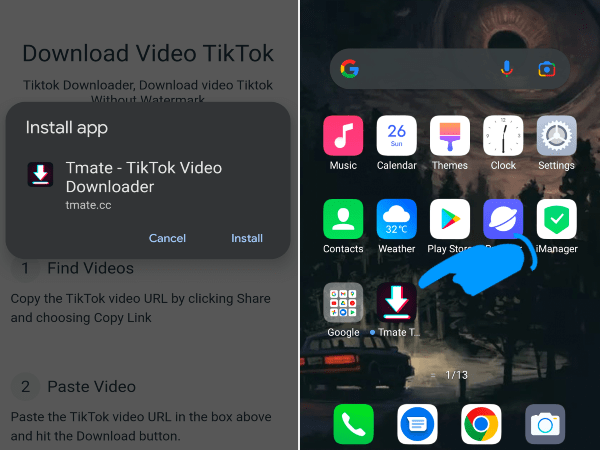 Instructions for installing Tmate PWA for Android:
Step 1: Visit

Tmate.cc

website on Google Chrome browser.
Step 2: Click the

"Add Tmate to Home Screen"

button at the bottom of the screen
Step 3: Click the

"Install"

button and the Tmate.cc PWA will be installed and displayed on the screen of your phone.
Why Tmate.cc is the better TikTok Video downloader?
Easily, Quickly & Safety.
Download TikTok video in the original resolution & quality.
Save and download TikTok videos from personal accounts.
High speed: Tmate has the fastest download speed available today.
No direct link ads.
Please share Tmate TikTok Downloader with your friends and relatives. Thank you!
FAQ
No, you don't need to be logged in to your account, here we help you quickly download TikTok videos without logging in. Help keep you safe and secure your account.
This service is completely free and has no download limits.
It's an online tool that allows you to download videos from TikTok without any watermark. Tmate.cc is a free tool so you can use it anytime.
Totally safe, we do not ask any information from users. You just need to copy the video link to the toolbar and download it at Tmate.
Open TikTok video in your Android phone -> Copy link -> Access Tmate.cc -> Paste to Toolbar -> Download.
For iPhone, you need to use Safari browser on iOS 13, or download the app
Documents by Readdle
and go to Tmate.cc and Paste Link video TikTok and Download.
It could be that the TikTok video has been deleted or TikTok is having problems, please try again.
Absolutely not, you can download countless times with Tmate absolutely free.
Videos are usually saved in the "Downloads" folder on Android Mobile and PC
Absolutely not, Tmate does not host videos nor keep copies of downloaded videos. All videos are stored on TikTok's servers and only downloaded to your device.
Notice: Tmate.cc is not officially associated with TikTok. It does not host or entertain any pirated or copyrighted content on its server and all uploaded videos are directly saved from their CDN servers on the respective user's machine.